How I Failed at Promoting my Novel with Amazon Advertising
At Reedsy, we like to stay on top of new marketing opportunities for authors. We covered Product Hunt Books when they launched. Advertising on Amazon (via Amazon Marketing Services) is not "new", however, it is still, largely, an untapped resource for authors. In this guest post, indie author Eliot Peper explains how he tried it out, and what the results were.
Marketing is a fraught subject among novelists. It's often seen as outside of our purview, and some look down on those who aggressively market their own work, seeing promotion as a corruption of the creative process. Historically, many authors outsourced their marketing to publishers along with other responsibilities like printing and distribution. But technology-driven changes within the industry are forcing authors to become ever more involved with marketing their books, whether because they're self-publishing or because their publisher demands it.
But novels are not a straight-forward product to promote. I read about 50 books a year, and I don't think I ever bought a novel because of a banner ad. Book PR firms have an abysmal track record. Most growth-hacking strategies borrowed from the tech industry simply don't apply well to fiction. At the end of the day, there's a single factor that determines a book's financial success: word-of-mouth. Most often, we buy a book because a trusted friend recommended it.
Some indie authors, like Andy Weir and Hugh Howey, have achieved blockbuster success without investing much direct effort into marketing. Others, like Mark Dawson and Nick Stephenson, have engineered semi-automated systems that introduce their stories to new readers and hopefully inspire additional word-of-mouth. My own activities fall somewhere in between these two extremes. When I'm writing and editing a book, it's a purely artistic process. But once a book is published and out in the world, I look at it through a commercial lens just like any other product.
As with other products, I've run a variety of marketing experiments for my books to see what works and what doesn't. I serialized the first book in a trilogy and uploaded it to Medium and Wattpad; ran giveaways on Amazon that were promoted by Bookbub, Booksends, etc.; pitched journalists for coverage; partnered with publications; ran organic and paid social media campaigns; gave talks; published op-eds and guest posts; came on podcasts; and even created real websites and social media profiles for fictional characters and organizations from the books.
So when I discovered that Amazon had created a new service to help authors and publishers promote their books, I decided to give it a shot.
How Advertising works on Amazon
Amazon Marketing Services (AMS) allows you to run campaigns that deliver ads to customers based either on their interests or on specific products they're viewing. For example, you might target folks that love science fiction or that are checking out the latest Stephen King bestseller. Amazon then displays the ads on specific product pages or on Kindle home screens.
Depending on your settings, there are three main places where your ads may show up:
In search results for a particular genre or interest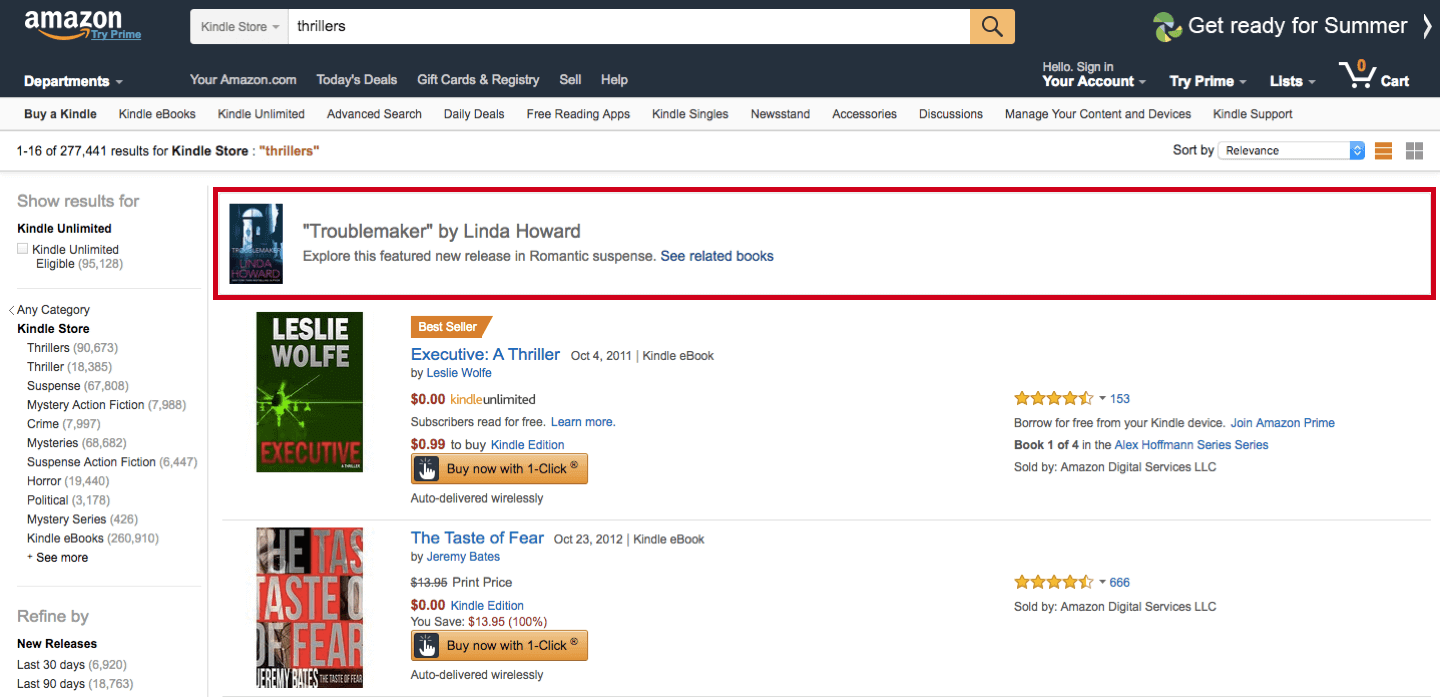 On a product page, next to the "also boughts"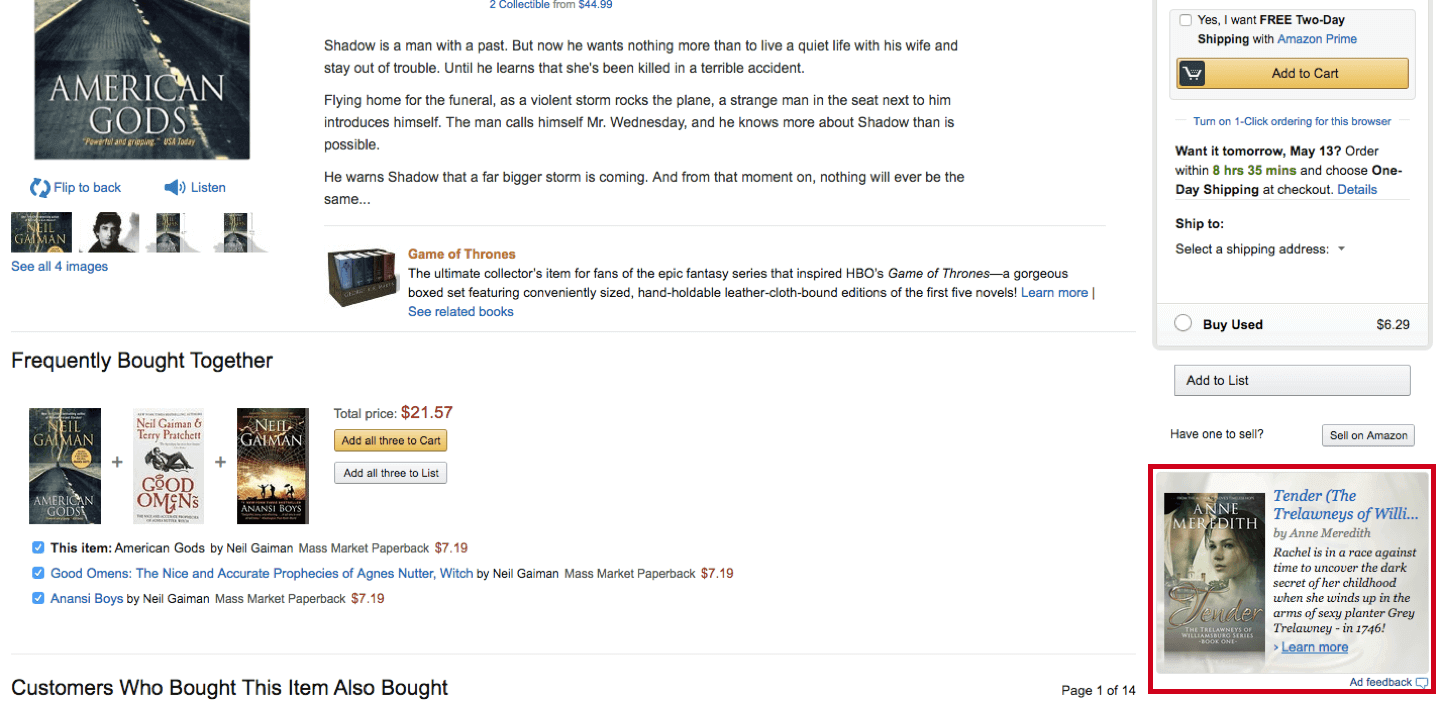 On a product page, below the product description

This looked extremely promising. Unlike Facebook, Google, or Twitter ads, you'd be reaching people where they already buy books: Amazon. Like many indie authors, more than 90 percent of my sales come from the Amazon ecosystem. Ideally, only customers who would be highly likely to be interested in my books would ever see an ad and they would be able to immediately click through to the product page. Finally, because the entire transaction happens on Amazon, I would be able to immediately see not only impressions and click-through rates but also actual sales and the average cost of sales.
My first three novels are a trilogy of tech startup thrillers that follow a pair of entrepreneurs that get caught up in an international conspiracy on the journey from garage to IPO. The series is the top-rated financial thriller on Amazon and I was confident that if the right reader clicked through, the description would pique their interest and the overwhelmingly positive reviews would whet their appetite for the story. If they liked book one, they might even go on to finish the trilogy.
My Experiment with Amazon Advertising
Brimming with newfound enthusiasm, I created an AMS account and created 10 parallel campaigns to test different variables. I created a few different combinations of relevant genre-based interests and carefully curated portfolios of similar books for product-based targeting. Then I assigned $250 to each campaign, scheduled them to run for a month, and pressed go.
The results were… [drumroll] ...disappointing.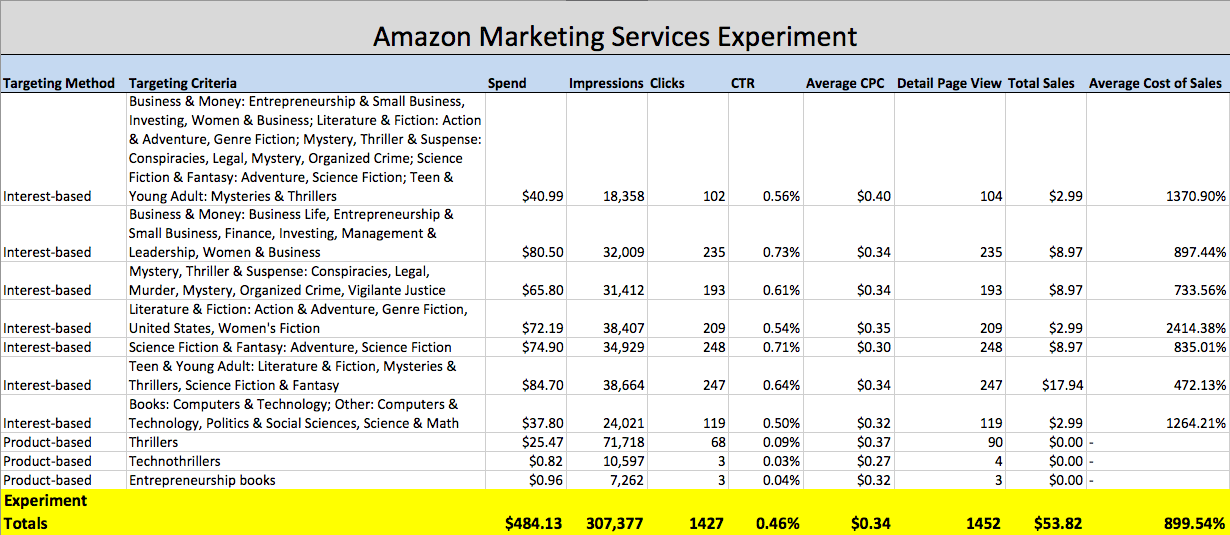 Across all 10 campaigns, I ended up spending almost $10 for every $1 of incremental sales. Marketing enthusiasts might point out that the $1 doesn't take into account customer lifetime value because readers might very well decide to buy more of my books later. While true, I don't have rigorous enough analytical tools to eliminate that effect from the data. Regardless, I'm quite confident that the discrepancy wouldn't come close to materially impacting the results.
Analyzing the results
For all you data-heads out there, the spreadsheet shares the specifics for the entire experiment. As you can see, campaigns varied widely in effectiveness:
The most effective was an interest-based campaign focused on YA, thrillers, and science fiction, which earned 38,000 impressions, 247 clicks, and $17.94 in sales.
Arguably the least effective was an interest-based campaign focused on genre and women's fiction, which had the same number of impressions but earned a whopping $2.99 in sales.
All three product campaigns combined failed to yield a single sale.
I was most surprised by how poorly the product campaigns performed. Because I had hand-picked books that were extremely similar to mine, I expected them to do very well. For comparison, I ran a giveaway two weeks before that cost about the same amount as the AMS experiment but yielded 33,147 free downloads and increased my paid sales by 5X.
Needless to say, I pulled the plug on the AMS experiment after the month was up. I have a new standalone novel coming out this spring so hopefully, the next experiment will go better!
---
Have you tried using AMS? How did it go? Have you published a book with Amazon Publishing? How effective were their internal promotional efforts? I'd love to hear your stories in the comments.
---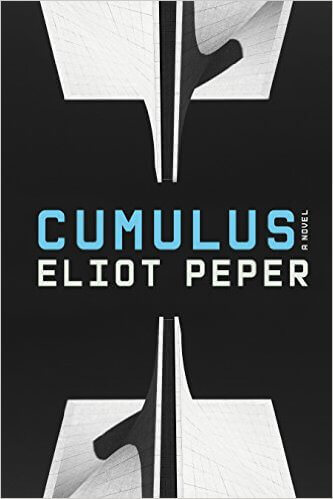 Eliot Peper (@eliotpeper) is a novelist and strategist based in Oakland, CA. He writes fast-paced, deeply-researched stories with diverse casts that explore the intersection of technology and society. His fourth novel, Cumulus, is a dark, gritty, standalone science fiction story set in a near-future Bay Area ravaged by economic inequality and persistent surveillance.