How I Wrote My Novel by Building a Community
Giuseppe Porcaro is the author of DISCO SOUR: an existential odyssey of a heartsick politician trying to save a war-torn, post-austerity Europe from algorithmic autocracy. In this article, he talks about the collaboration behind his latest novel, which was inspired in large part by interactive events he organized during the writing process.
When I first started working on DISCO SOUR, I had a story stuck in my head, and this romantic dream of writing on the beach, sipping on a coconut through a straw and hammering out my book in a couple of weeks. So, I bought a ticket to Indonesia and settled on the island of Gili Meno, where I rented a bungalow by the beach. Fresh Bintangs (local beers) took the place of the coconut.
Learning that there's more to writing a novel than just, well, writing
After three days on the island, I fell in the mud after a tropical storm and severely dislocated my arm. A local suggested that I visit their aunt in a nearby village because she was an osteopath and would be able to help heal my arm.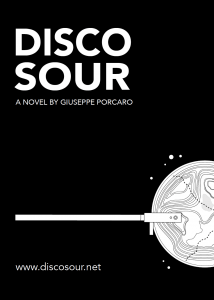 Anxious to get back to my writing, I told the woman to do whatever she wanted in the hopes of a quick heal. She eventually put my arm back in what was probably the most painful experience of my life. The next day, my right hand was purple and had grown to three times its usual size, landing me in the hospital where they plastered my arm. My idea of quickly writing a book with a view of the ocean vanished into thin air.
After this false start, it took me a month to return to my writing. This time I was ready for a long journey full of tight schedules, purposeful pauses, writing, and rewriting.
Finding my own writing methodology
Every author eventually finds their own methodology. Mine has been to alternate solitude with collaboration. After my experience in Indonesia, I knew that my writing journey had to be shared with others: for my book to turn out how I wanted it to, I needed to broaden the scope of my knowledge and to apply the talents of other to the story of DISCO SOUR.
Thus, the writing of my novel became an experimental project, involving an ever-growing group of people. Between March and July of 2017, I organized a series of interactive events, all of which greatly informed my book, and built a community around my story that was still in the making.
My collaborative, interactive novel-writing experience
What did these community-building events look like?
First of all, one of the things that makes DISCO SOUR unique as a piece of literature is that it has its own soundtrack: it's a book for the dance floor. So, in order to get a better idea of how people would react to specific songs intended to accompany the novel, I organized two parties. It was fun to play the songs I had in mind for specific scenes and to watch the parties I had imagined in my writing come to life. More than 200 people showed up for each party.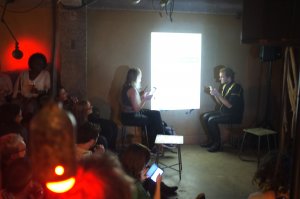 One of the main plots of the novel is the introduction of "plebiscitum"®, a Tinder-like app that is meant to replace elections. So to get a better idea of the relationship between humans technology — dating apps, specifically —  I co-created a performance piece with METASITU that incorporated Tinder and gathered more than 180 matches.
Another key part of DISCO SOUR is the exploration of Europe's political future. So, in order to help me brainstorm a dystopian future that is only a stone's throw from what we have today, my third event was a talk about European narratives called "Eurovisions." I assembled a high-level panel of influencers from politics and the arts, including Giacomo Filibeck (Deputy Secretary General of the Party of European Socialists), Ryan Heath (Senior Editor at Politico), Denis Maksimov (co-founder, Avenir Institute), Teresa Cos (Artist-in-Residence, Wiels Brussels). The event also included the reading of an excerpt from my unfinished manuscript. It was attended by more than 60 people and targeted mainly young professionals.
Finally, I organized a workshop for interactive world building for DISCO SOUR with Librebook, an independent bookstore in Brussels. Jessica Woodworth, an American filmmaker, and Pieter de Byser, a Belgian theatre director, joined to give their own perspectives on creating imaginary worlds.
How community-building contributed to my novel
All of these events made my writing journey a unique and collaborative one. They provided a wealth of information for character development and even inspired entire scenes: without these events, the book would have been entirely different. For example, during the "Eurovisions" event, Denis Maksimov sketched the concept of "State of Noland," and the role of free economic zones in hacking nation states. This concept became key in developing the backdrop for my novel: the outbreak of a European civil war.
I also included snippets of conversations about dating apps that were recorded during the Tinderpolitics performance, and the dance parties I hosted were instrumental in depicting many of the disco scenes.
One of the most valuable outcomes of this whole process was the community that formed about DISCO SOUR. Readers became part of the story, helping create the world of the novel simply by showing up and taking part in my events. I also created a Facebook group (which acquired 800 followers), and a newsletter (which has grown to 1,000 subscribers) to keep participants of the event up-to-date on the writing journey.
However you choose to write your novel, make sure you have fun
Every author has a unique approach to writing a book. However, it can be said across the board that creating a story with which you're happy takes time and consistency, and, above all, it has to be fun. If you don't have fun writing it, people won't have fun reading it.
And as any independent author knows, writing a novel is only half the battle. Drumming up interest is the other half. And while my decision to involve people in the writing process was for creative reasons, facilitating shared, face-to-face experiences with potential readers was also an excellent way to build buzz and encourage people to become invested in DISCO SOUR. I learned a great deal from my friends, filmmakers, journalist, native English-speakers (English being a second language for myself), Reedsy professionals, and avid readers — all of whom helped my story grow.
---
Please share your thoughts, experiences, or any questions for Giuseppe Porcaro in the comments below!
The book is available for pre-orders on Unbound.
I would like to thank Michael Rowley and Jessica Hatch, who I worked with to develop and finalize the manuscript.